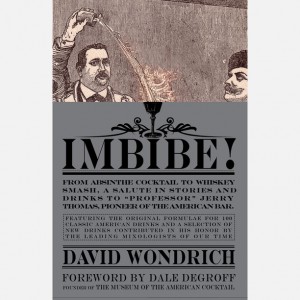 Imbibe!: From Absinthe Cocktail to Whiskey Smash, a Salute to Stories and Drinks to "Professor" Jerry Thomas, Pioneer of the American Bar
by: David Wondrich
A lively, historically informed, and definitive guide to classic American cocktails.

Cocktail writer and historian David Wondrich presents the colorful, little-known history of classic American drinks-and the ultimate mixologist's guide-in this engaging homage to Jerry Thomas, father of the American bar.

Wondrich reveals never-before-published details and stories about this larger- than-life nineteenth-century figure, along with definitive recipes for 100 punches, cocktails, sours, fizzes, toddies, slings, and other essential drinks, plus twenty new recipes from today's top mixologists, created exclusively for this book.

This colorful and good-humored volume is a mustread for anyone who appreciates the timeless appeal of a well-made drink-and the uniquely American history behind it.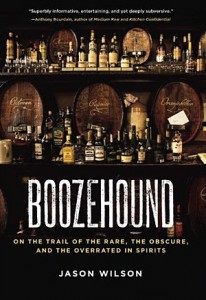 Boozehound: On the Trail of the Rare, the Obscure and the Overrated Spirits 

by: Jason Wilson

While some may wonder, "Does the world really need another flavored vodka?" no one answers this question quite so memorably as spirits writer and raconteur Jason Wilson does in Boozehound. (By the way, the short answer is no.) A unique blend of travelogue, spirits history, and recipe collection, Boozehound explores the origins of what we drink and the often surprising reasons behind our choices.

In lieu of odorless, colorless, tasteless spirits, Wilson champions Old World liquors with hard-to-define flavors—a bitter and complex Italian amari, or the ancient, aromatic herbs of Chartreuse, as well as distinctive New World offerings like lively Peruvian pisco. With an eye for adventure, Wilson seeks out visceral experiences at the source of production—visiting fields of spiky agave in Jalisco, entering the heavily and reverently-guarded Jägermeister herb room in Wolfenbüttel, and journeying to the French Alps to determine if mustachioed men in berets really handpick blossoms to make elderflower liqueur.