Chartreuse Kitchen & Cocktails – Opens Today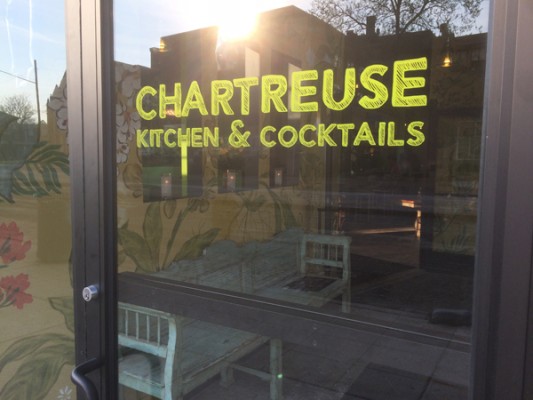 If you have ever been to the Oakland Art & Novelty in Ferndale, Mich., you know what amazing work Sandy Levine and his team of bartenders does. So naturally when he pairs up with Chef Douglas Hewitt Jr., you know something good is in store.
The dynamic due opens Chartreuse Kitchen & Cocktails today to the public. I was super lucky and got a sneak peek earlier this month.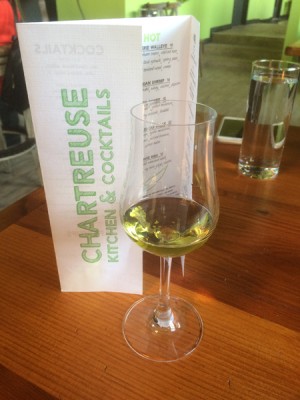 When I first saw the paint color on their Facebook feed, I was a bit concerned. There are epic walls of Chartreuse Green (naturally) on many of the walls. That being said, it is artfully designed with amazing floral installations from Pot & Box and an incredible living wall of succulents by The Rust Belt Market's mad scientist Chris Best.
The space is right on main street and has a delightful view of the DIA. The over-sized windows pour tons of natural light into the space making for gorgeous photos.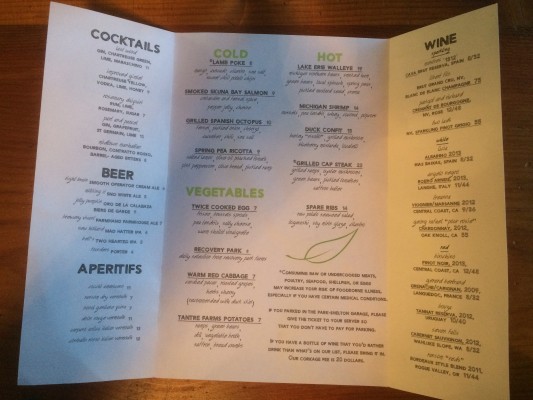 I brought my lovely wife along for the dining experience and wanted to try everything on the menu. The simply designed gate fold greets you on the cover with 11 different Chartreuse liqueurs. Most of them are vintage, not for sale and/or imported. The list left me in awe. The budget only allowed one selection so I made the most of my money with a VEP (Vieillissement Exceptionnellement Prolongé…that's a mouthful) green variety.
We went on to sample 7 dishes. It sounds like the menu may change a bit so don't be shocked if some of the below isn't available. My guess is this will be around for at least the first few weeks.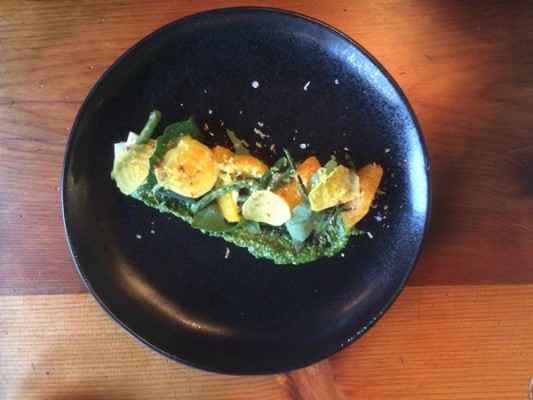 The Recovery Park Vegetable will change periodically as new awesome produce is available. The first dish did not disappoint and was Lish's favorite. Thumbs up to Doug for having so many veggie friendly dishes.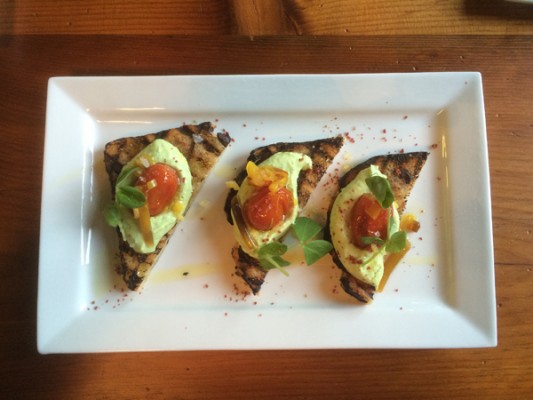 The Spring Pea Ricotta is a light dish that is filled with fresh garden flavors. It absolutely reminds you of the season it's named after.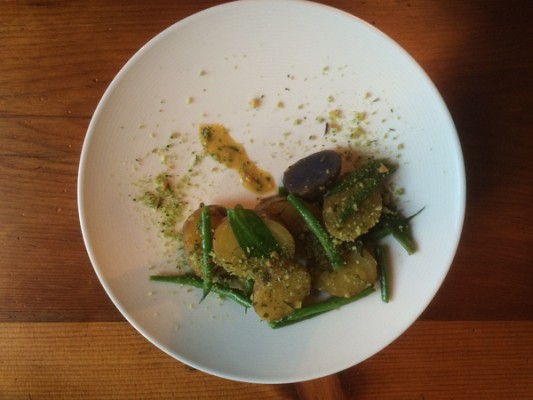 The Tantre Farms Potatoes are simple and skillfully prepared tubers with just a bit of fuss to make them pretty.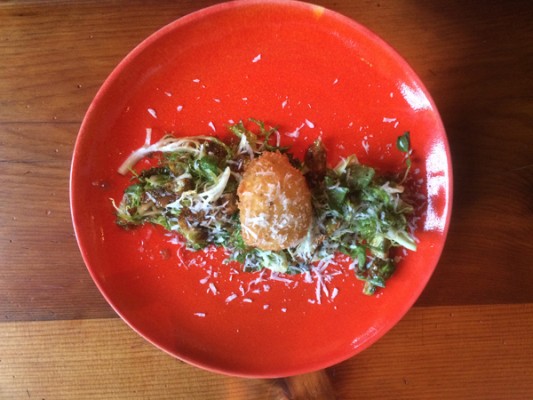 Heaven on a plate. My favorite dish was the twice cooked egg. Laid on a bed of delirious Brussels sprouts. Just be careful you don't spray searing hot egg yolk all over you when you cut into it. Rumor has it the dish has already taken its first victim.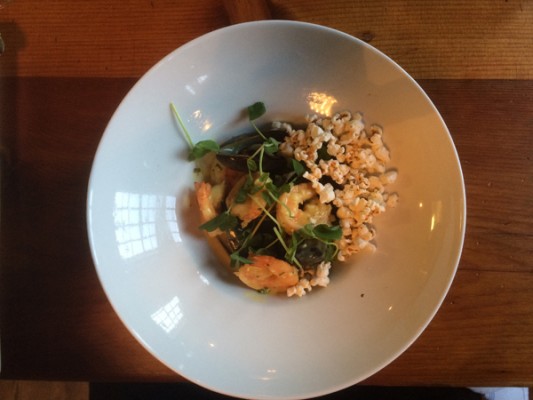 The dish I was most excited about was the Michigan Shrimp. This was teased over the months going into the launch on Facebook. The shrimp is produced from a small company in Okemos, MI and is full of flavor.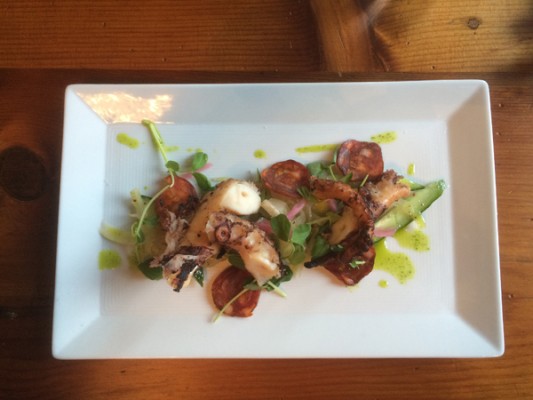 I love octopus and this Spanish variotion was outstanding. Perfectly grilled with just a hint of char.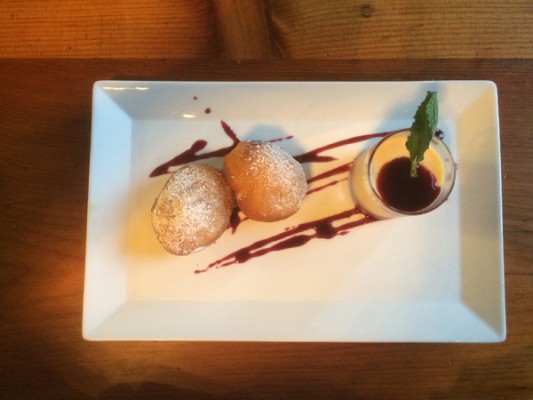 We finished the night with two simple created donuts and a tasty peanut custard to pair with it.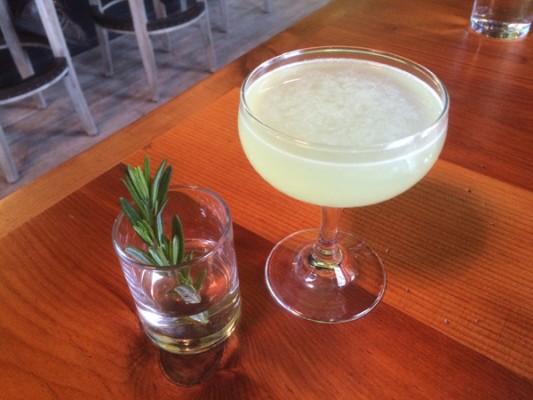 The Last Word is one of Detroit's best contributions to the classic cocktail list. I paired this with my meal and it was perfectly made. Cheers to the head bartender, Kaytee Querro on her amazing work too.
There may be a few spots left for the opening week and please go check it out soon. This is the type of place that will start winning awards and become the next Selden Standard.
Budmo!