Featured International Bartender: Mihai Fetcu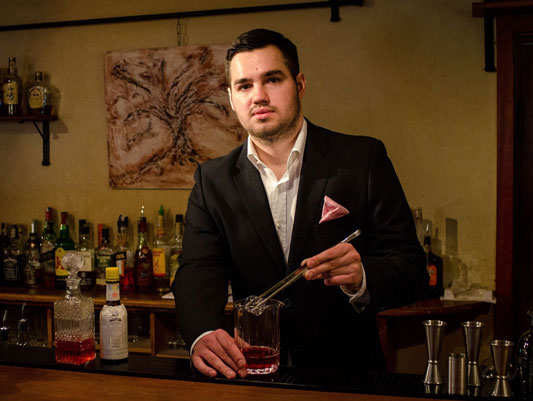 I follow a number of cool bartenders on the Facebooks and have been following Mihai Fetcu of Bardome.ro (in Romanian) for a while. He is a talented bartender that has competed in regional and international competitions. He has a fun video featuring some of his skills and a daft hand at garnishes and some incredible barware.
Today is his birthday! He was kind enough to share some of his drinks with the Nick Drinks audience. There are some ingredients that might be tricky to find so I offered some substitutes. If you are struggling with substitutes, let me know. Please let me know what you think and follow him on Facebook.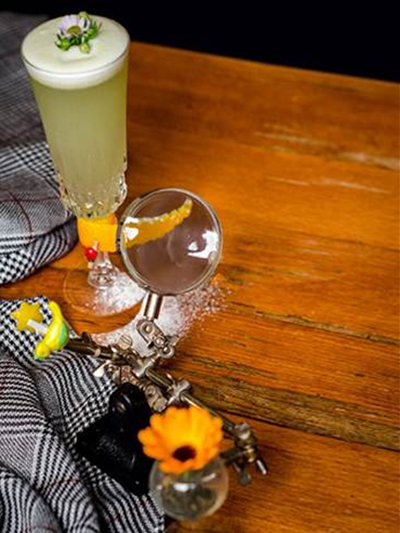 Medlife
Glass: Arcoroc flute, pre-chilled
Garnish: Trimmed Orange Zest, edible sugar flower, sand-glass filled with dried mint, icing sugar, lemon star and wooden bird peg
Method: Bruise /  Dry Shake, Shake & Double Strain
Ingredients:
Preparation: First bruise the basil leaves in the bottom of the mixing glass and then add all the ingredients (except sparkling water) and dry shake until the egg white gets well emulsified. Add ice (I used Tovolo ice cubes) and shake until the drink is well chilled, mixed, aerated and diluted. Double strain the contents into the pre-chilled glass that has some sparkling water poured inside. Add the garnish and smile !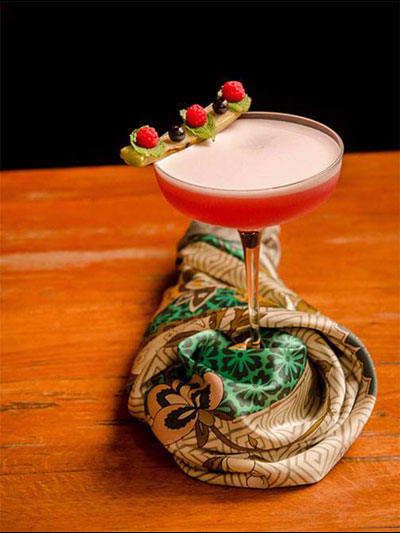 Aine
Glass: John Jenkins Coupette, pre-chilled
Garnish: caramelized rhubarb*, fresh raspberries, fresh blueberries, fresh mint
Method: dry-shake / shake & double strain
Ingredients:
40 ml or 1 1/3 oz Jameson Irish Whiskey
15 ml or 1/2 oz Triple Sour Mix **
35 ml or 1 1/4 oz Berry Marinade ***
30 ml or 1 oz Fresh Pink Grapefruit Juice
1 fresh egg white
1 dash Peychaud's Bitters
Method :
In a mixing glass add all the ingredients and dry shake it. After this, fill the shaker with cubed ice and shake well untill the drink si well chilled, mixed, aerated and diluted. Fine strain into the chilled coupette glass, add the garnishes and smile !
* Take one fresh stalk of rhubarb, peel it and cut a part of it. Then put it on a plane plate, cover it in brown sugar, add 10 ml of overproof rum (I used Stroh) and set it on fire. After the flame is extinguished scrape of the caramelized sugar and use the stalk.
** Triple Sour Mix is a mix containing equal parts of fresh lemon juice, fresh lime juice and fresh rhubarb juice. Nothing industrial here ! :))
*** Berry Marinade – Take 100 gr. of fresh raspberries and 100 gr. of fresh blueberries and mix them together in a mason jar. Add 200 ml of Cranberry Liqueur (I used Wenneker) and 40 ml of Cointreau and let them sit for 48 hours, shaking the jar once in a while. After the fusion of flavours, fine strain the whole mixture into an bottle and refrigerate it. It is ready for making delicious cocktails.
P.S: The name comes from an old Irish noun that means: splendor, radiance, brilliance. Even though it is written "Aine' it is spelled "Anya".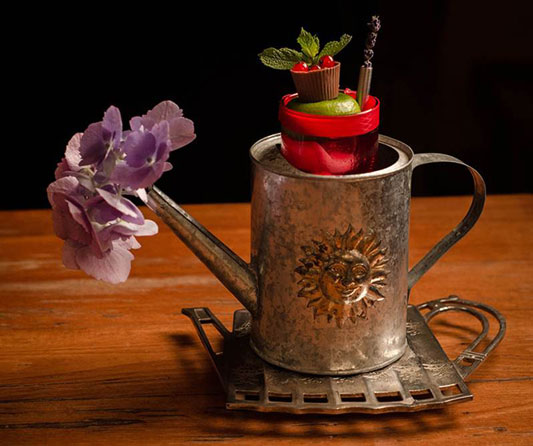 Leonde
Glass: Highball, filled with ice cubes
Garnish: lime, fresh lavender, red ribbon sprayed with orange zest, chocolate cup and fresh cranberries
Method: Build
Ingredients:
40 ml or 1 1/3 oz  Jameson Irish Whiskey
20 ml or 2/3 oz Wenneker Ginger Liqueur (Try Kings or Domaine De Canton)
20 ml or 2/3 oz Fresh Lime Juice
Top Ocean Spray Cranberry Juice
1 dash Scrappy's Lavender Bitters
Method:
Build all the ingredients over ice and stir a bit. Add the garnishes and smile !
P.S: The name comes from "le onde' that means waves in Italian.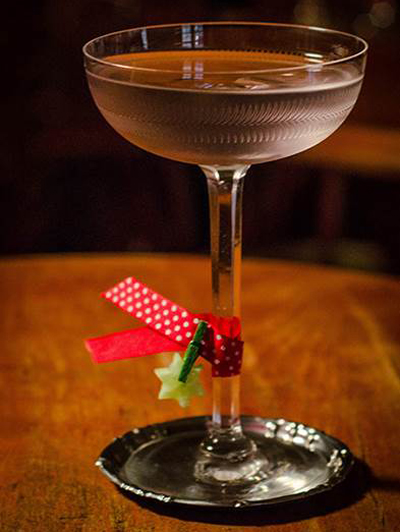 Perfect Evening
Glass:  180 ml cocktail coupette, pre-chilled
Garnish: red ribbon sprayed with rose water, green wooden peg, cucumber star
Method: Stir
Ingredients:
90 ml or 3 oz Hendrick's Gin
15 ml or 1/2 oz Wenneker Parfait Amour (try Marie Brizard Parfait Amour)
1 dash Noilly Prat Vermouth Dry
Method:
In a prechilled Yarai mixing glass, add the ingredients , ice and stir until the drink is well mixed, chilled and diluted. Julep strain into the pre-chilled cocktail coupette, add the garnishes and smile !
Story behind the cocktail:
This is a twist for the classic Martini recipe where I wanted to make the Parfait Amour the star of the show. It gives the cocktail a nice pleasant vibe and sends your palate into heaven. I prefer small ratios of dry vermouth in cocktails and this is my idea of a dry martini: I dipped the barspoon into Noilly Prat for a few seconds and then I started to stir the ice cubes in the mixing glass so that they will be coated with the fragrance.
I like my Martinis extra cold, so for this one I prechilled my tools: mixing glass, barspoon, julep strainer, metal coaster and I used good quality ice.
The only things that I didn't chilled are the ingredients (Except the vermouth that stays always in the refrigerator, not the freezer) because I think when they are at a higher temperature than the rest of the tools which they will engage in contact, the aromas will develop more nicely and the fragrance will be more intense.
The rose water is sprayed from a vermouth mystery on the ribbon so that the customer can get some of the ideas that are within the bottle of Hendrick's and to carry them after leaving the bar also. Same with the cucumber.
Not just a shooting star !