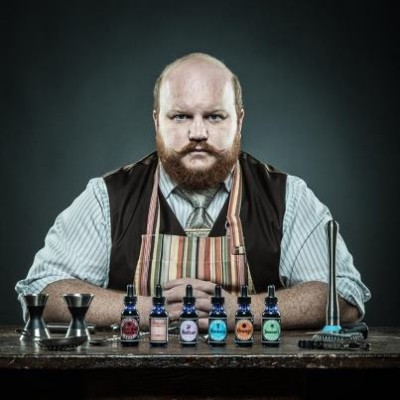 What was your first gig? 
Palomino Euro-Bistro – It is a chain restaurant and he learned conventional skills. The place didn't have a lot of heart but he got a lot of experience there and did that for 5 years. He started as bus and worked up to bartender. Since the cocktails were limited there, a new challenge was needed.
The Talk Town Diner, which unfortunately closed, hired Nick to be a server. As the owners got to know him, he became 5 night a week bartender. Here is where he learned everything. More cocktails were made and he started to get awards. After only a year, he became bar manager.  Looking for a new challenge, Nick moved on and the place closed 6 months later (actually on his birthday). He tried one more place but he reached is restaurant peak and needed a new challenge.
It was about this time Nick started solidifying relationships with the team that would become Bittercube which is his current gig. They focus on consulting and craft bitter creation. They've worked with a number of bars which have won local and national awards. Over the course of their work, they have trained 70+ bartenders. The team also makes their famous bitters. It started as a small project that is now selling 180,000 bottles a year in 16 states. Michigan is coming soon thanks to his recent visit.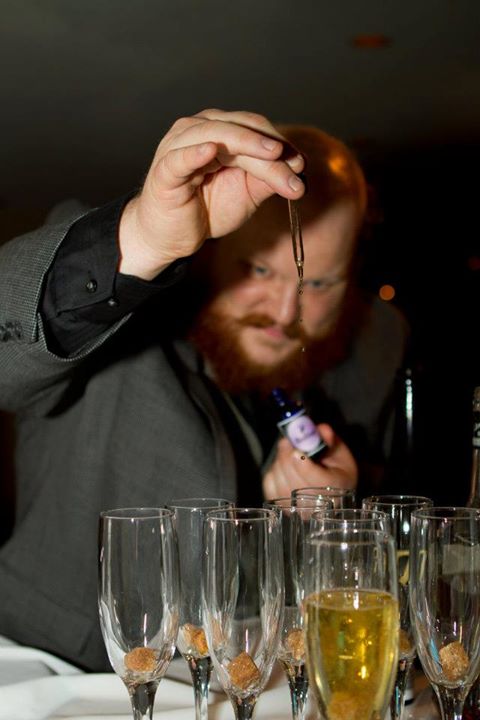 How do you get your ideas for flavors for your bitters?
Some  he makes are classics and their versions (botanical structure) have been tweaked over years. Jamaican were inspired by flavors they wanted. Batches changed over time. It has been lots of hard work but has been a great success.
How did you become a Bombay Sapphire Ambassador:
Nick won the local competition in 2009 then went to National's in Las Vegas, competed, and took 3rd. On top of that, he got along with the fellow ambassadors. This lead to invitations in Miami and did that for training. His relationship with the brand built slowly. The year after he got invited to become a brand ambassador  and was most inspired bartender of the season.
How could someone become a brand ambassador, like you:
"It's hard to explain how it happened," he said. "If someone says 'I want to do what you do'. Then compete, then do 'ok', then go to Miami, then talk to people. It just happened."
It kept making sense and it worked. Good responses from classes. It grew. Gary Harword, who covered 46 markets, wasn't able to get to everyone.  They became good friends and they do the classes together to learn from each other. Nick says to start in your local market and go from there. Become part of your USBG chapter and you can get the openings from them. A lot come from competitions.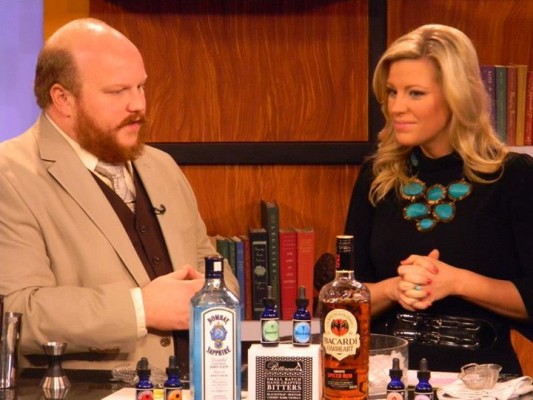 What is the best piece of advice for new bartenders:
Read everything (see list below). Bartending is supposed to be an apprentice program but not every bar has that luxury.  So reading is the most important thing you can do. Pair this with drinking and traveling to seeing other bars. Take that knowledge to your home market. Check out things like Tales of the Cocktail (New Orleans) and Portland Cocktail Week.
10 books you should read in the next 10 months:
What is the best piece of advice for experienced bartenders:
Same thing as the new bartenders. Just because you are doing it a long time, does not mean you are master. Even 10 years is not enough. Just because you know the bar, doesn't mean you understand the bar. You need to know the ins and outs of every ingredient and embrace 250 years of bartending. Bartending comes off as a position that once you get the highest spot, your word is the law. You always have more to learn. Educate yourself and your staff.
Favorite off the job drink:
Water. Hydrate. Pellegrino with Bittercube Cherry Bark Bitters. If he is drinking booze, it's classic: Sazarac, Classic Old Fashioned or a Gin Old Fashioned with Bittercube Jamaican #2 Bitters and a twist of grapefruit peel
What's Next: 
Bittercube is working on Michigan Cherry Pit Bitters and should be ready this Fall 2013.