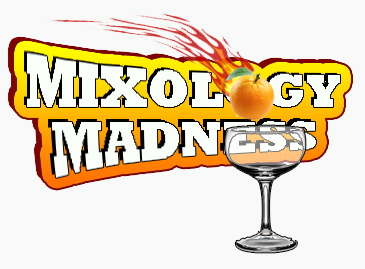 After months of preparation, I have assembled some of the best bartenders in Michigan to challenge each other in a cocktail championship. These 13 competitors will test each other to see who has the best bartending chops. The goal was to present a cocktail featuring at least on Michigan spirit. Each competitor submitted a picture, description and title for their drink.
As visitors of NickDrinks.com, it is your job to pick who is the best. Use your keen talents of deduction to select your winner from each challenge. You are encouraged to seek out these bars and try their drinks. We know that might not be possible. You could also try them out at home based on the recipe. If that fails, the last option is to use your mind to taste them. Don't forget to take presentation into consideration, when you vote as well.
In Week 1, we will have 5 votes to make. You will see a small blue and white voting box for each challenge.  In Week 2, we will have 4. In week 3, there will be 2. Finally, in Week 4, we will select the grand champion. Competitors & bye weeks have been selected at random.
The voting isn't a perfect system. I'm sure there are ways to throw the vote. We would encourage everyone to play fair. You are allowed one vote per person per challenge per week. Voting will close the Monday of every week. While voters don't win anything, the grand champion will win a gift basket of booze and swag provided by the following Michigan Spirit Companies: Black Star Farms, Civilized Spirits, Journeyman Distillery, & Valentine Vodka. Please check out their products. More to come on a future post.
With out further delay, I present your 2013 bracket. Please review each of the challenges below and vote on your selection. Three lucky bartenders got a bye week for the first round.
Round 1: Phil Attee v. Dave Kwaitkowski
Old Yeller - Phil Attee – Alley Bar
1.5 ounces Journeyman Distillery Featherbone Bourbon
.75 ounces Carpano Antica sweet vermouth
.75 ounces Yellow Chartreuse
1 dash Fee Brothers Black Walnut bitters
Stir. Serve up and garnish with a flamed orange zest. Enjoy.
Spring Negroni - Dave Kwaitkoski – Sugar House
.75 oz. Lavender infused Knickerbocker gin*
.75 oz. Lillet Blanc
.75 oz. Aperol
Spring Bitters**
Stir, strain into coupe and garnish with a grapefruit peel, and maybe a flower if you've got one handy.
Round 2: Andy French v. Kaytee Querro
Bacon takes Manhattan
 - 
Andy French – GO Comedy!
1.5 parts apple and vanilla infused New Holland's Beer Barrel Bourbon,
1 part bacon infused simple syrup
1/4 part sweet vermouth
1/2 apple brandy.
Garnish with sugar and black pepper rim and and apple dipped in sugar and pepper.
Beer Can Flip - 
Kaytee Querro – The Oakland Art & Novelty Co.
.75 oz dragons milk beer jam
.25 oz bliss maple syrup
Whole egg
1 oz  cream
2 oz New Holland bourbon
Serve in a coupe fresh grated nutmeg on top
Round 3: David Porcaro v. Giancarlo Aversa
I left my hog in Traverse City - David Porcaro - Pizzeria Biga
a re-imagining of the whiskey old fashioned in four savory steps
2 oz Bacon-Fused Traverse City Whiskey Co. Bourbon
4 Dashes Bacon Bitters
0.6 oz Bacon & Arbol Chili Infused Piloncillo Sugar Syrup
Dry Cured Vanilla Candied Pork Belly (garnish)
"Begin with 12oz. of uncured bacon. Slow render the bacon at a low temp (around 275 degrees) until done (30-45 minutes). Put the meaty pieces into the Bourbon in a sealable container and shake vigorously from time to time. Add some of the fattier pieces to 1:1 ratio Piloncillo syrup with several chiles (to taste, they are not very spicy, but flavorful). Strain both and freeze for about 30 minutes until the fat turns solid and then strain this too. The bacon bitters is my secret, sorry!"
The Osborn - Giancarlo Aversa – The Last Word
Knickerbocker Gin
Fresh Pineapple
Fresh Jalapeno
Fresh Lime Juice
Topped with Ginger Beer.
Cucumber wheel (garnish)
Preparation is to muddle three one inch cubes of pineapple with one jalapeno ring, add gin and lime juice and a little simple syrup. Double strain the cocktail over ice and add ginger beer to top. Garnish and serve. The Osborn. It is named after a friend of mine and local Michigan musician, (cause he loved it so much at the time of its inception when it had no name).
Bye Week: Chris Vanderginst
Rites of Spring - Chris Vanderginst – Café Muse
.75 oz of fresh squeezed lime juice
1 oz Bilberry Black Hearts Gin from Journeyman Distillery (Three Oaks, MI)
.75 oz Green Chartreuse
.75 oz St Germain Elderflower Liquor
Bar spoon of Mallory's Busy Beehive Honey (Silverwood, MI)
6 mint leaves muddled
Add all ingredients to tin. Shake. Pour into a collins glass. Top with 2 oz Ginger Beer.
Round 4: Tony Murelli v. Travis Fourmont
Nain Rouge
 - 
Tony Murelli – Toasted Oak Grill & Market
New Holland's Knickerbocker Gin
splash of fresh squeezed lime juice
Apricot Fizz - Travis Fourmont – Roast
1.25 oz Apricot infused Knickerbocker Gin
1 oz Fresh lemon juice
0.75 oz Allspice infused demerara syrup
1 oz Cream
1 egg white
Topped with soda
Glassware: Collins
Garnish: Fresh nutmeg
Pour all ingredients into a dry tin except soda and garnish. Dry shake the cocktail vigorously for several minutes. Then, double strain into a chilled Collins glass. Top cocktail with soda and gently stir.
Round 5: Lester Burke v. Les Molnar
An Em Aye Martini - Lester Burke – Inn Place Bar & Grill
2 oz Valentine Vodka
1 oz Dekeyper Cherry Liqueur.
Shake vigorously with ice, strain into chilled martini glass and garnish with lemon.
Valentine's Summer Soda – Les Molnar - Green Dot Stables
1.5 oz Valentine Vodka
2 oz of house infused cucumber/basil simple syrup
.5 oz fresh lemon juice
Top with soda
Garnish with lemon and cucumber
Bye Week: Francesco Samoyoa
Herbal Cooler - Francesco Samoyoa – Atlas Global Bistro
2oz Valentine Vodka
Lime Juice
Basil Simple Syrup
Fennel Salt
Basil Leaves
Rim the glass with fennel salt. Muddle two basil leaves in a rocks glass.  Add ice and 2 oz of Valentine Vodka.  Top of with equal parts lime juice and basil simple syrup.
Fennel salt:  Add equal parts fennel and sea salt to a blender and pulse a couple of times to give it a course grind
Basil Syrup: Combine 1 cup of sugar, 1 cup of water, 1 cup of basil in a pan over medium heat.  Bring up to a boil for 1 min, then remove from heat and let stand for 30 min. Then strain and refrigerate.
Bye Week: Jon Foley
William's Embellishment – Jon Foley - The Laundry
2 oz Liberator Gin
3/4 oz Cocchi Barolo Chinato
3/4 oz Averna Amaro
The drink is called William's Embellishment (after William Hogarth's Gin Lane illustration). The primary spirit is Valentine's new Liberator Gin.
This is in no way, shape or form connected to March Madness or the NCAA. March Madness is wholly owned by National College Athletic Association.