New Summer Cocktails at Bastone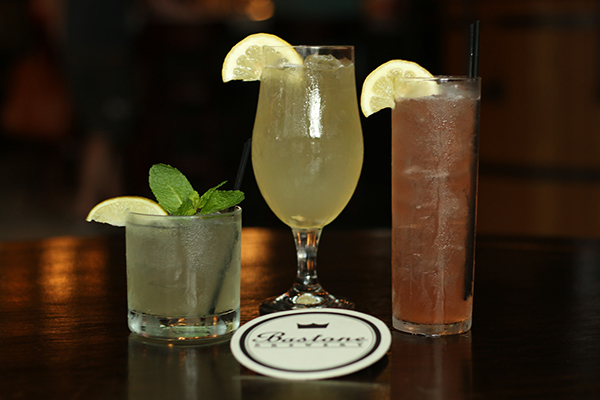 You may think of Bastone as a brewery with some pretty solid food however they have had a full bar for a number of years and have opted to up their cocktail game with the skills of Keith Martin. He is an 11 year veteran of the restaurant and is flexing his drink muscles with the release of a series of new summer cocktails.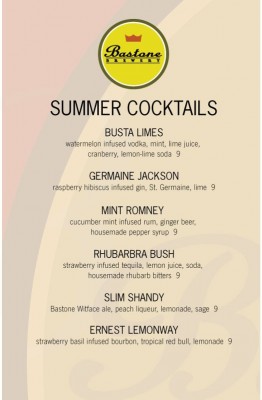 My wife and I along with our friend Stephanie tried out half of the new cocktail menu; Mint Romney, Ernest Lemonway and Slim Shandy. Bastone is known for their homemade beer so I was very excited to see a beer cocktail (Slim Shandy). I did an article recently in the Detroit Beer Press on beer cocktails.
A shandy is quickly becoming more popular in the US but is largely an overseas creation. It's lemonade mixed with beer. Keith takes this a step further with the addition of peach liqueur and sage. It's an easy sipper that plays nicely with the beer. Even if you don't like beer, give this drink a try. You might be surprised. The drink name is a great nod to Detroit too.
We are a day away from our first GOP debate so the Mint Romney was a fitting selection. This is kinda like a Jamaican Mule (Moscow Mule with Rum) but Keith shows off his skills by adding some homemade pepper syrup and infuses the rum with mint and cucumbers. The drink is incredibly intense with mint flavor and packs a bit of a punch.
I had no idea that red bull came in different flavors until the Cafe 78 #2 bar fight. The evil genius and winner of Nick Drinks 2013 Mixology Madness, Chris Vandergist, challenged bartenders to make cocktails with different energy drinks. Tropical Red Bull wasn't bad. Keith, sensing that I wanted to see more from this caffeinated elixir, and made the Ernest Lemonway adding some strawberry/basil infused bourbon and lemonade to the energy drink. This upper and downer would make a great start to the night. Just don't overdue it.
This trip to Bastone was the first time I got to meet Keith and though he started out a bit quiet, he quickly opened up and was the perfect model of a bartender. Prior to Bastone he had a bunch of corporate jobs and cocktails was just a side thing (sound familiar?).  Now at the place for many years, he is really finding his way with drinks. He loves gin and appreciate how it can compliment everything or work on it's own.
Bottom line, give Bastone a shot for cocktails. The prices are reasonable (clocking in at $9) and the staff is friendly and enjoyable. I hope to run into you on their patio to share a drink soon.
Budmo!