Repeal Day Celebration & Parties – December 5th, 2013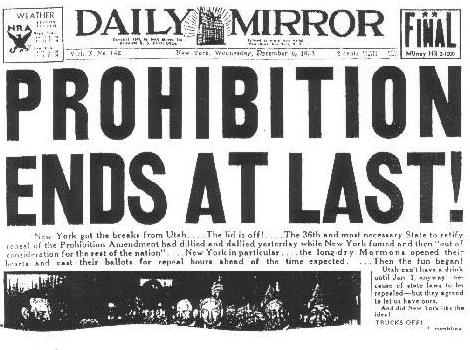 Every year this holiday sneaks up on me between Christmas and Thanksgiving. On December 5th, bartenders & cocktail fans celebration the repeal of Prohibition. Parties happen around the country and we have  two in our neck of the woods. I'm sure there more so please share.
Sugar House: Repeal Day 2013 – (12/5 – 5p) 
From their Facebook Event: "Join us to celebrate our right to celebrate! On December 5th, 1933 Congress passed the 21st Amendment to the United States Constitution, repealing "the noble experiment" known as Prohibition. Federal laws banning the sale and consumption of alcoholic beverages were immediately repealed. This year, we celebrate the repeal of Prohibition with live music, fantastic drinks, door prizes and festivities of all manner. Period dress encouraged. Mark your calendars, and take the next day off work."
City of Ferndale (including The Oakland) – (12/7 – 6p) 
Except from Ferndal Patch Article: "Ferndale's downtown will commemorate again the anniversary of the day in December 1933 that Congress and President Franklin D. Roosevelt enacted the 21st Amendment ending Prohibition.  The annual event this year is Saturday, Dec. 7, and funds will be raised for the Ferndale Good Fellows." – The city did something similar last year.
Unfortunately, I'll be in Cleveland on the 5th (maybe Velvet Tango Room?). However the 7th is a definite possibility.
Budmo!