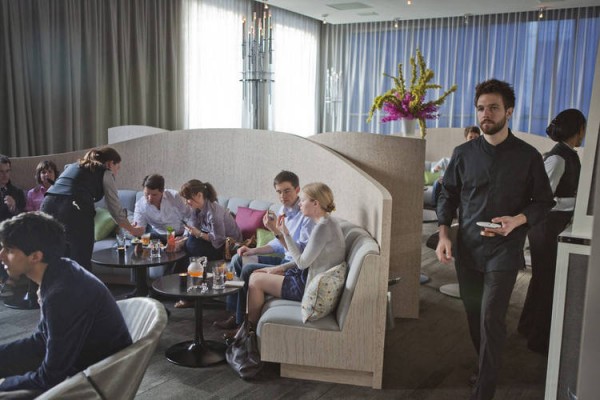 Lish and I took a trip to Renegade Craft Fair last weekend in Chicago. It was a lot of fun and we brought back so much great art. While there, I managed to get reservations to The Aviary. They have system that requires and email to their site and if selected they will give you a time to attend. We got 8:30p.
The place has no signage but has an opulent frontage with outdoor seating and a bouncer with FBI style headset. As we got closer, we started to fear they had a dress code. I was wearing jeans and a button up while Lish was in shorts and a nice top. We also carried our Nordstrom bag from a recent purchase.
We approached the bouncer and asked if we were dressed ok. He grunted what was I think an affirmative. We then said we had a 8:30 reservation. He gruffly said wait here. After about 5 minutes, he let us in with little fanfare.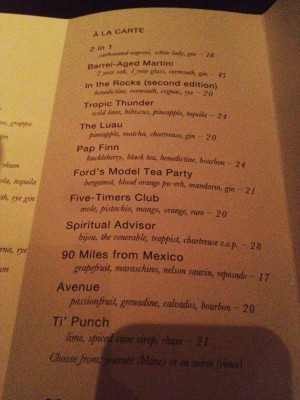 We walked inside to a very impressive front lobby with a few high tops and no chairs. The receptionist, in her best valley girl voice, said she would check our Nordstrum bag. We got the impression our bag would sully the appearance of the bar from her response.
They said we wouldn't have a booth but would have to stand in the lobby at a table.
We were greeted shortly after that with a delicious boozy smoothy. It was a nice little amuse bouche. The waiter took our order for some Champagne for Lish and a Henry Ford's Model Tea Party for me.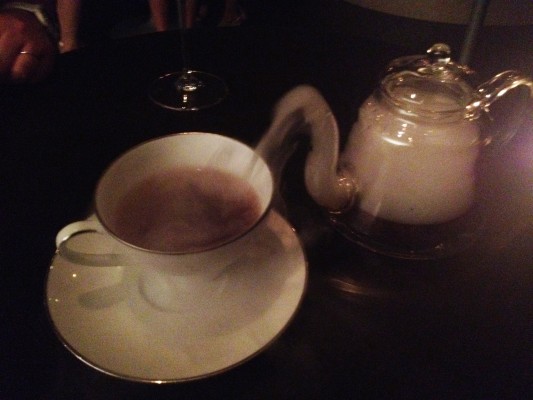 The presentation was excellent. Served in a tea cup, after the tea was poured from the tea pot, dry ice was placed into the pot to simulate steam. It was a cold cocktail. The taste was very good and was a fantastic sipper.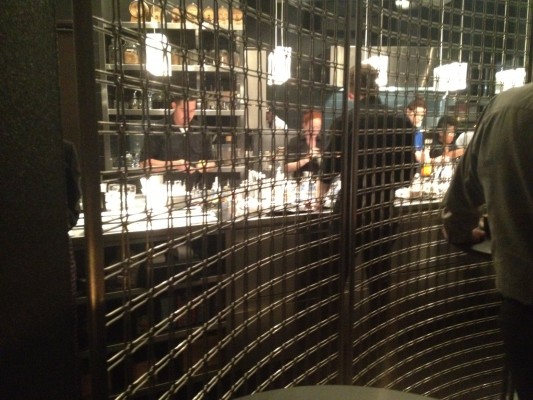 Above is a picture of the kitchen. The bartenders are kept behind a cage to make their creations. I saw a number of amazing things come out of there.
The two drinks we had were $58 and we were not enjoying the atmosphere (nor did we feel welcome) so left and went around the corner to ING.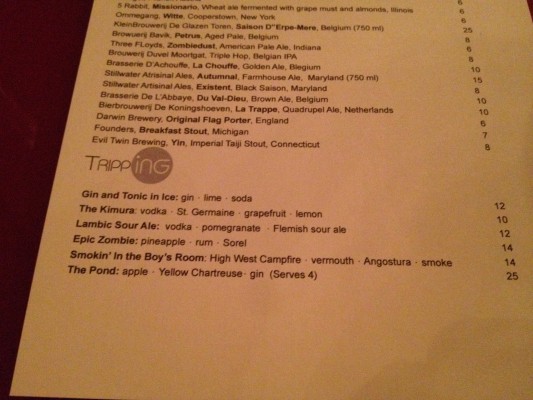 iNG specializes in food & drink prepared to accompany a Miracle Berry . While we didn't partake in that journey, we did have some amazing cocktails.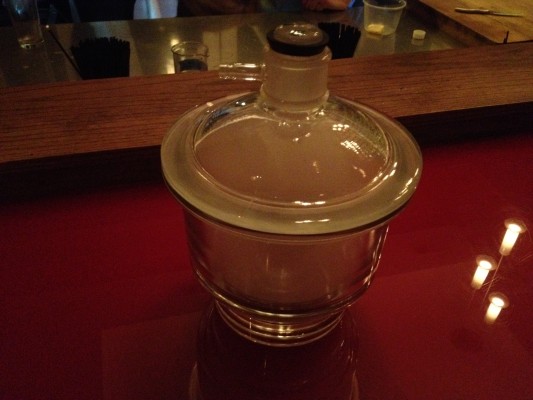 This one was called Smoking in the Boys Room. It consists of a whiskey cocktail with live smoke in a desiccator. You allow the drink to smoke to your liking and remove when ready.
The drink was great both in presentation and taste. It really picked up a lot of smoky taste.
Overall, The Aviary had great presentations and cocktails but snobby attitude and sterileness of the experience really turned me off. There was a long list of drinks I wanted to taste but I didn't feel welcome. The staff gave me the feeling I was a distraction for the other patrons due to my plebeian clothes. It's hard to say if I would do it again. So much of the experience is the relationship with the bartender and there is none of this. It is more like you are testing experiments.
The other thing that really bugs me is they had a mandatory tip of 18%. Having worked in restaurants and bars, I almost always tip 20% and in good bars often tip more. But I did not and would not give them one more penny. I would have rather them put a line that says we don't accept tips and charge a little more.
Overall, I would say the cocktails are kinda worth the experience but don't go for the service. It makes me sad as I built up this trip and left very disappointed.
Budmo!